1st Lieutenant William Poulos Jr.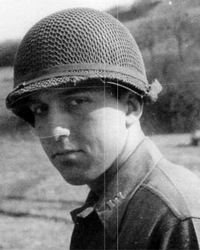 View Company Photo Gallery:
View Photos


(Oak Leaf Cluster)
Date of birth: 6/5/1920
Date of death: 1/20/2002
Home State: MI
Serial Number: 0539366
Resting:
Memorial Gardens Cemetery
Midland, MI
Obituary:
Click here
C Company
View Roster
notes:
3rd Platoon Leader
Promoted to 1st LT: 14 OCT 1944
Became Executive Officer later on
Award of the Bronze Star Medal
The Bronze Star Medal awarded for ably assisting with reconnaissance, mine clearing, and direction of the construction of a 254' fixed Bailey Bridge over the Roer River. His enthusiasm and personal courage so inspired his men that the bridge was completed well ahead of schedule, despite mortar and artillery fire directed at the site during the initial stages of construction.
The Bronze Star Medal is awarded for bravery during operations at Beilngries where the men risked personal injury to rescue injured infantry men trapped across the Altmuhl River.
William and Hipp (H&S Company) graduated from college together:
Spartan History (PDF format)
William became a teacher after the war:
Google News

Displaying documents for Poulos