T/5 Manuel D. Apolinario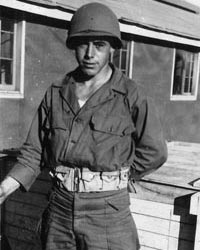 View Company Photo Gallery:
View Photos


Date of birth: 5/7/1922
Date of death: 8/22/1995
Home State: MA
Serial Number: 31459248
Resting:
St. Patrick's Cemetery
2233 Robeson St.
Fall River, MA
Enlistment Record:
Click here
C Company
View Roster
notes:
Enlisted for duty: 29 Mar 1944
Released from duty: 26 MAR 1946
1st Platoon
3rd Squad
Later promoted to SGT
Otherwise know as Apples
Award of the Bronze Star Medal
For meritorious service in connection with military operations against an enemy of the United States at Winden, Germany, on 25-26 February 1945. Technician Fifth Grade Apolinario, a truck driver, after driving a truck load of men to the site of a Bailey Bridge on the Roer River, volunteered to work on the most difficult tasks in its construction. His enthusiasm and diligent efforts were an inspiration to the men with whom he worked and contributed substantially to the speedy completion of the bridge. T/5 Apolinario's steadfast devotion to duty reflects great credit on him and the Armed Forces of the United States.

Displaying documents for Apolinario