284th Engineer Combat Battalion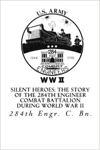 Paperback & Kindle: Click here
Latest updated: 11/30/2017
PAPERBACK ONLY - Kindle update soon!

The 284th's history has been bound into one volume and is now available in paperback and Kindle formats! Basic training, Infantry work under General Patton, Roer crossing, Remagen and V-2's, it is all in there!

If you have a few spare dollars please consider donating to help cover the costs of this project, thank you!

Come visit us on Facebook!



Instagram

Reunion photos from over the years!

NEW - Morning Reports
NEW - All Soldier Documents
NEW - Original Cadre (not a complete list)